Are you looking for the best WordPress Hosting Website to start creating your blog or eCommerce business using WordPress?
This definitive guide is for you. You will learn what's the best web hosting services that will help your business grow.
In fact, this helps my new website blog boost traffic, speed, and conversion.
So let's start!
Just like you over the past ten years of experimenting, testing and migrating to the different WordPress hosting websites.
A lot of hosting websites offering you the lowest price then promising something.
Then you will be shocking for what you expect is far from their marketing strategy. Sad right?
Yes, I agree every hosting website has its own unique services.
But for me what is your goal? Are you just creating a website for nothing or do you want to earn? Right?
Why I'm sharing this? Yes, we create a website with a purpose. Either to earn and help other people too.
Like sharing more information, answering their quires and be the solution to their problems.
I believe this guide for you on choosing the right WordPress hosting website can help your business grow or even you just started to create.
Which hosting service is best for WordPress?
What you pay is what you get! There is always a consequence of buying something.
The question is what should I buy this? What are the benefits will get when I buy this?
Before buying Hosting Website consider this.
Server Reliability, Uptime Scores, And Security.
Customer Service.
Availability Of Site Backups.
Registration And Maintenance Costs.
Ability To Add Domains.
Account Limitations.
E-Commerce And Email Options.
Sounds familiar or we're thinking the same?
How much does it cost to host a WordPress website?
You can build a fully functional WordPress website for yourself and keep your costs under $100.
First, you will need a domain name and web hosting. A domain name typically costs $14.99 / year, and web hosting normally costs $7.99 / month.
But sometimes lower than that. I remember that $1 promo. 🙂
Do I need a host for WordPress?
Any website needs hosting. It can be free like hosting like WordPress.com or paid.
If you want full control over your WordPress website, then yes I recommend you do need a paid WordPress hosting.
Now, before I migrate my Website on my favorite best WordPress website. On today's Google Mobile-first indexing.
All we need is the best hosting website that will speed up or website and an SEO (Search Engine Optimization) and Mobile friendly WordPress Theme.
In fact, here's an example of what I love about my definite hosting website.
I ran a speed test on my website FrontrowBlog.com
As you can see my website speed is normal. But I believe there's is more on that.
Now, here's my new website speed from 4.5 seconds to 2.5 seconds. Isn't it amazing?
In fact, I add content on my homepage when I ran a page speed test.
As in wow!
So Why I choose WP Engine?
WP Engine is a WordPress platform backed by a team of WordPress experts who are available 24/7 to make things easy for you.
What makes WP Engine as the best in managed WordPress hosting?
Technology
The best-in-class architecture and highly redundant systems keep WordPress fast, scalable and secure.
Expertise
They deliver over 800 hours of around-the-clock, professional WordPress support daily. If you have any questions, they will answer you.
Innovation
With a full-time engineering staff and dedicated lab team, They're refining the bleeding edge of WordPress technology.
Platform of Choice
500,000 digital experiences are powered by WP Engine.
5% of the online world visits at least one experience on WP Engine each day.
2 Million+ attacks blocked every day for WP Engine customers.
90,000+ customers in 140 countries trust WP Engine with their digital experiences.
Whether you need a dedicated enterprise solution or you just need to be managed to host to get started, they have a plan that's right for you.
And of course!
They partner with StudioPress Themes for WordPress. The world's most popular mobile-responsive themes and design framework for WordPress.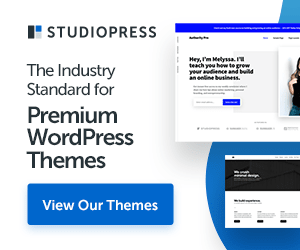 Build Amazing Websites Quickly & Easily with Studio Press Themes.
Amazing Designs. Flexible, Powerful, Smart. Widget & Layout Options. Customizable & Fast.
Powered By Genesis. Airtight Security. Unlimited Everything.
Best Of The Best. The Industry Standard.
Get Genesis Framework & StudioPress Themes free.
When you sign up for a WP Engine plan, you receive the Genesis Framework and 36 StudioPress Themes free.
That's over $2,000 in value when you sign up for a WP Engine plan. Browse StudioPress Themes for WordPress
What is Wp Engine?
WP Engine is the leading WordPress digital experience platform. We're a new breed of technology company at the intersection of software innovation and service. Our platform provides brands the solutions they need to create remarkable sites and apps on WordPress that drive their business forward faster.
Related helpful articles:
Now I'd like to turn it over to you:
What's the WordPress Hosting Website you are using now?
Are you going to start a new website? Or maybe you're going to start to migrate your website to WP Engine? Get 3 months free when you sign up for WP Engine.
Or maybe you have a question about something you read.
Either way, let me know by leaving a comment below right now.